At Leba, we are excited to share our experience at the recent Padel Tournament sponsored by Conecta-T B2B from June 9 to 11. It was an exceptional opportunity to strengthen our ties with the local business community and enjoy three days full of sport and camaraderie.
The tournament featured various categories, which allowed for a wide participation of enthusiastic players. We were privileged to witness exciting matches in the men's, women's and mixed categories. Each team demonstrated their talent and passion for paddle tennis, making the event a truly inspiring experience.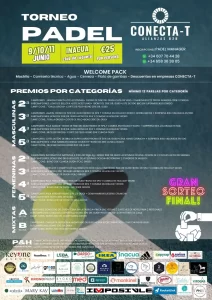 For us, Leba, being part of this tournament was more than a simple collaboration. It was a way to show our commitment to networking and business development in Malaga. We believe in the importance of creating synergies and collaborating with other companies to drive joint growth.
As a leading company in the construction sector, we are proud to be part of initiatives like this, which promote a positive environment for the development of the business community. Paddle tennis proved to be an excellent way to bring people together and establish closer relationships.
At the end of the tournament, we were honored to receive recognition from Conecta-T B2B for our participation and support. The awards ceremony was an opportunity to celebrate the sporting achievements and, at the same time, reaffirm our commitment to continue working together with other companies to achieve common goals.