Marbella Design magazine has launched its latest edition, where the construction company LEBA shows one of its latest projects; an exclusive luxury villa located in Marbella with stunning views of the Mediterranean.
Designed by renowned local architects and built to the highest quality standards, this dream property seamlessly blends classic elegance with modern conveniences.
With more than 1,865 m2 of plot, the villa has spacious rooms distributed on several levels. The interiors are meticulously designed with top quality materials, such as marble, hardwood and glass, creating an atmosphere of luxury and comfort.
Its façade is undoubtedly the element with the most personality. It is a composition of two floors with wide overhangs, which accentuate the sensation of movement and at the same time protect the generous glass enclosures that are completely misaligned.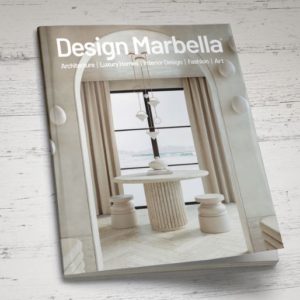 The exterior is probably the most architecturally interesting aspect of this project. The plot has a hillside layout that allows to enjoy the unbeatable views of the location, but at the same time poses certain technical complexities at a constructive level. The difference in levels is resolved by a staircase formed by white concrete platforms that are displaced from each other and descend drawing an interesting visual game. This creates a communication between the living area of the upper floor and the swimming pool, perfectly integrating both environments.
In addition, the villa is surrounded by lush landscaped gardens, with outdoor living areas, perfect for al fresco dining and leisure time under the warm Marbella sun.
As for the construction process of this luxury villa, it has been carried out by a team of LEBA experts.
experts from LEBA
who have used state-of-the-art processes and materials to guarantee the maximum quality and durability of the project.
From the foundations to the structure, the builder has paid special attention to every detail to meet the highest standards. Throughout the process, meticulous monitoring has been carried out to ensure that deadlines are met and quality is maintained at every stage of construction.
The villa's finishes reflect meticulous attention to detail and a focus on elegance and luxury. Polished marble floors, high-end woodwork and intelligent lighting systems are just some of the features that enhance the beauty and style of the property.
In addition, a high degree of customization is offered to meet the individual preferences of future owners. From the layout of the rooms to the choice of finishes and decorative details, they have the opportunity to work with the design of the rooms.