At Leba Constructora we are proud to have been sponsors of the National Bricklaying Competition organized by the Peña El Palustre, the 56th edition of this prestigious event that has been a great success. The Padre Ciganda square in El Palo was filled with excitement and skill as 31 masonry crews gathered to compete in the 'Champions League' of masonry.
Rivalry and Skill: The Challenge Under Construction
This annual challenge attracts participants from various parts of Spain, from Fuenlabrada to Cáceres, Badajoz, Tarragona, Granada and, of course, numerous corners of Malaga. The competitors began their hard work at eight o'clock in the morning, facing the task of building from scratch a structure composed of two parallel rings joined by an arch. With only five hours to complete the task, skill and creativity were essential.
Tension mounted as the end of the test approached, and the audience watched expectantly as the supports supporting the constructions were removed. Unfortunately, more than five structures collapsed at that point, but the competition remained fierce.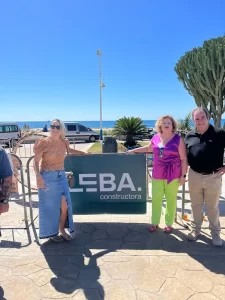 An Event that Promotes Skill and Technical Knowledge
In the end, crew number 12, made up of officer Aleix Plana and his assistant Vasile Safta from Vilaseca (Tarragona), won first prize and took home 6,000 euros. These experienced competitors had participated in the contest since 2010 and had never seen one of their structures fall. Plana explained that the biggest difficulty this year was in the approach to the supports.
The Peña El Palustre National Masonry Competition has a long tradition, dating back to 1966, when the Peña did not yet have its own premises. Since then, it has grown in prestige and attracts masonry enthusiasts from all over the country. Throughout its history, it has only been interrupted once, in 2020, due to the coronavirus health crisis. Leba Constructura is proud to be a part of this event that promotes skill and technical knowledge in the masonry trade.